Discover more from In Bed With Social
Social Media, Tech and Consumer Culture Weekly, or fewer. No spam, no bs.
Over 6,000 subscribers
Zoom: breaking new ground in the pandemic era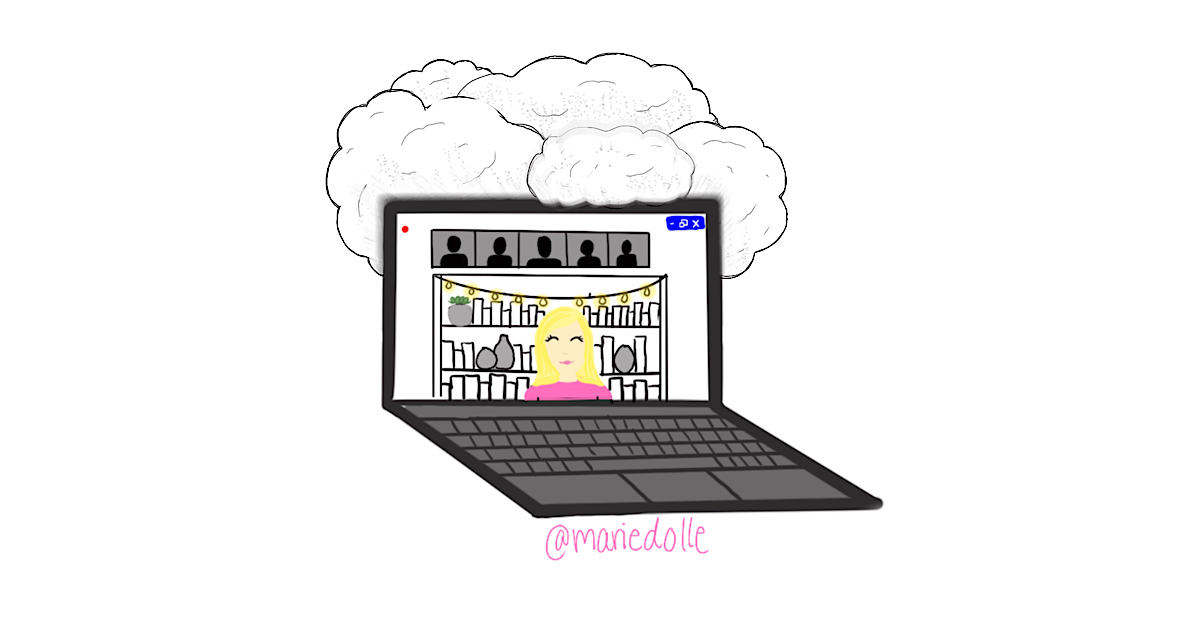 During lockdown, I wrote an in-depth article on the future of web conferencing for french media Viuz. A crucial subject in the context of a persistent health crisis where new uses are multiplying, sometimes unexpectedly. Let's dive in.
The rise of Zoom decorators
Not all companies are equal in the face of the health crisis—some have benefited from a favorable wind, such as those operating in the interior design and furnishing market. It's no wonder, people are spending more time at home, so they want to improve their cocoon to make it as comfortable as possible. Let's consult Google to grasp the extent of the phenomenon: the query "Home interior design" went from 74K searches worldwide in February 2020 to 110k in August.
What appealed to me, and even amused me, were the services specializing in the beautification of rooms visible through Zoom conferences. As Eugène Wei rightly said: people are status-seeking monkeys, they seek out the most efficient path to maximizing social capital. Lockdown or not, the fundamentals do not change! A few unusual examples:
Kiera Kushlan and Jessica Centella created the Residents Understood brand specializing in interior design. Faced with the growing demand from customers wishing to improve their Zoom setting, they had the idea to launch a brand new service: a virtual design pack in which, for $350, they take a video tour of your home followed by a 30-60 minute consultation to list space improvement solutions. You can also opt for a pricier package of $1,500, with a much more complete design plan and a Pinterest board loaded with specifically selected products and furniture.
Another example is Brattle Book Shop, a father-to-son bookstore that offers to curate bookshelves as personal or professional backdrops. Surprisingly, the approach corresponds to a very real phenomenon that inspired a new literary column in the New York Times—the analysis of celebrity bookshelf.
Let's also mention the satirical Twitter account, "Bookcase Credibility," which analyzes all the different bookcase mosaics with a delightfully trenchant tone.
Intangible assets and phygital experiences
IRL decors are also simulated in the wake of the Zoom backgrounds. In the digital age, you have to adapt! There are numerous ways to create a nice background to improve each other's conferences.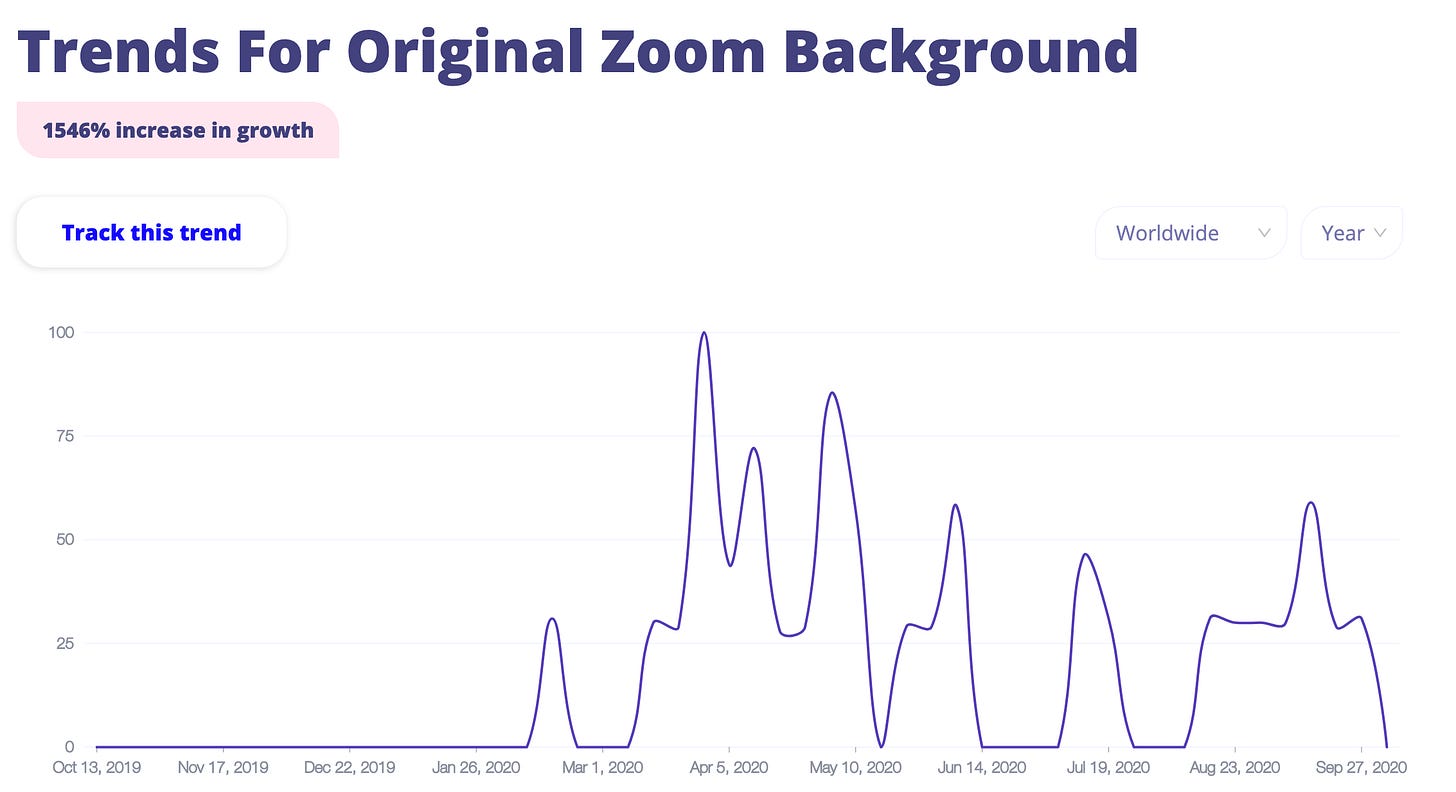 If the phenomenon seems anecdotal, it betrays a major change that is taking place before our eyes: companies must rethink phygital experiences, especially the creation and management of their intangible assets.
There are different ways of doing this, as I explained a few months ago. Brands are developing brand rooms with logos and other documents for free download. Why wouldn't they have libraries of digital goods adapted to their universe and the needs of their audiences? A beauty brand could offer AR filters to enhance a make-up range via Instagram, or set up a beauty filter app for the Zoom marketplace (which, by the way, is growing, +800 at the time I'm writing these lines) that enriches the experience of its users. (NB: it is already possible to add Snapchat filters to Zoom.) Here too, the product is being searched for more and more on Google.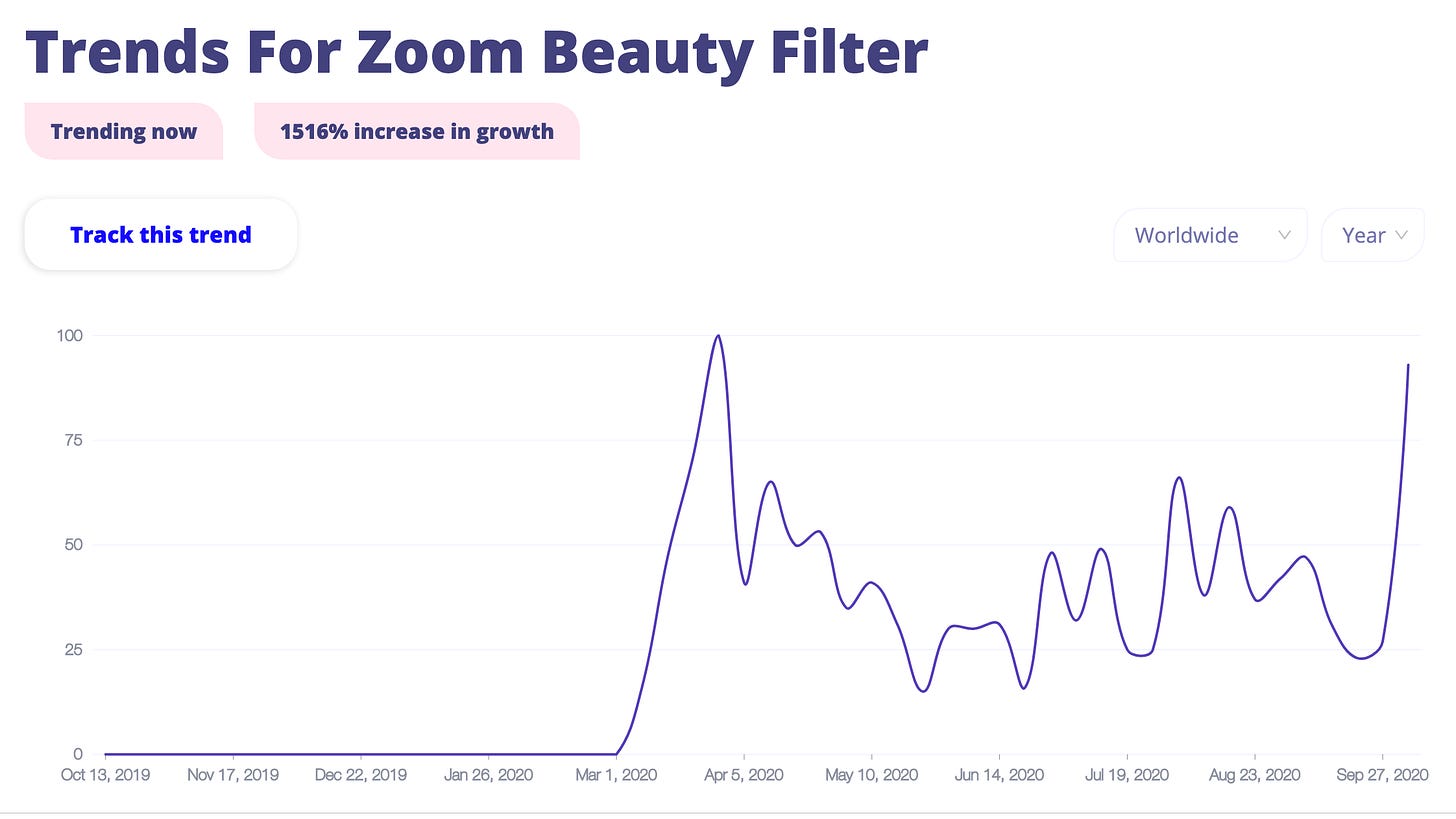 The opportunities in the sector are beyond Zoom's scope, they are, in fact, infinite: stickers for private messaging, GIFs for social networks, digital objects for online gaming platforms such as Animal Crossing or Fortnite. Three concrete examples illustrate the variety of applications:
Closed due to the pandemic, the Getty Center and the Getty Villa in Los Angeles have recreated their collections virtually ... thanks to Animal Crossing: New Horizons. More than 70,000 works of art were imported into the game using an open-source online tool and the open-access collection.
The Brazilian brand Amaro — like many other fashion brands — has developed a clothing line with the help of the game Animal Crossing (again). Their inspiration? The outfits imagined by the players. To source these pieces, Amaro has created Mara, a character who has become their virtual influencer. Their virtual island is accessible to gamers every day from 11:30 am to 3:00 p.m. and 7:00 p.m. to 9:00 p.m. (Brazilian local time). The outfits designed during these interactions are selected by Amaro for placement in the capsule in a real life collection, and the game's designers receive vouchers for their efforts. Finally, web users can follow the outfit ideas on the campaign's Instagram page, where 13 styles have started the design process.
Does the future of food lie in digital restaurants? At least that is the thesis of this fascinating article. The author explains how she used Instagram to create Fresh Hot Delicious, an all-digital restaurant specializing in digital desserts. Each dessert exists in the form of an AR filter, freely available on Instagram. To simulate a restaurant in the real world, dishes are sold when the AR filters reach a specific number of views. Users can play with them for free until they are sold out and deactivated. In this way, the digital restaurant gives a life span to previously permanent digital objects. Clever, isn't it?
Zoom ... a multifaceted business?
For sure, the ambitions of the video conferencing platform go beyond simple leadership in the web conferencing tools market. Protocol already mentioned it a few months ago, Zoom's leadership will not settle for their current business. For them, Zoom will take ownership and transform the way companies communicate. Their new tools will replace desktop phones and instant messaging in the future, new artificial intelligence features will optimize meetings and new cutting-edge technologies will further strengthen the proximity and understanding of the workforce. "Think of it this way: WeWork wanted to re-imagine the office as a different place. Zoom wants to rethink the office as a place that doesn't exist at all."
Eric Yuan isn't setting up a video chat service at all, he's building the metaverse. "Imagine a world where, at any time, with any device and with one click, you feel like you're in the same conference room... you can see each other and shake hands." And the CEO of Zoom points to his coffee cup, saying how great it would be if he could also feel it in his hand. So Metaverse... and inevitably, a plethora of opportunities or a new market?
Why not become the next generation Advertising Sale House? We have invested massively in video-conferencing tools? Now we want to make them our own, customize the experience and background. This raises the question of advertising in these spheres. I can already see you frowning, but, after all, why not, if it's well done? I imagine this in two ways:

An advertisement assumed to be more acceptable: freemium access to web conferencing solutions through the insertion of advertisements in the background, advertisements that could be contextualized according to the conference theme. Example: Yoga classes + advertising related to wellness and sports.

Another option, better in my opinion: drawing inspiration from product placement practices in movies. More subtle, less intrusive and therefore more easily accepted? Technically and legally, this raises questions, but it is still possible.
Disrupting TV! When will there be a calendar with a catalog of all free or paid public Zoom conferences? With a giant waiting room to access different simultaneous conferences? A sort of station hall with a system of meetings and discussions between users? Obviously, you would have to work on the whole digital experience, but it would allow you to transcribe those moments when you come across someone "by chance" online.
Interesting? Wacky? Utopian? Worrying? One thing is certain: new uses are taking shape ... and will take root in a sustainable way. Even "Zoom fatigue" (which is very real) brings its share of innovations: collaborative tools, the rise of audio apps as an alternative, new tools and working methods that reconcile the synchronous and asynchronous approach. In short, everything remains to be seen and done!
Stay curious, always
Marie
---
💎 Snippets & other curiosities