Discover more from In Bed With Social
Social Media, Tech and Consumer Culture Weekly, or fewer. No spam, no bs.
Over 6,000 subscribers
OSINT: how to find anything on the internet
"The best place to hide a dead body is page two of Google."
You've probably seen this meme floating around the internet a while ago. An ironic nod to a rather surprising fact: 90 percent of the clicks on search engines are concentrated on the first page of results.
Is it because we find everything immediately? (lol) Because we don't want to look any further? Lack of time, lack of curiosity? And yet, the web is full of digital rabbit holes that underline unlimited opportunities and endless discoveries that will leave you in awe. That's where Open Source Intelligence (OSINT) comes in handy. The acronym represents information collected from public sources, such as those available on the internet. But just because open source is free or publicly available doesn't mean it is easy.
Everyone uses Google, but few use it well
Ah Google ... a universal tool for search in western countries. But, while everyone uses or has used it at some point, few know how to use it correctly, or at least efficiently. An example:  Looking for an email address? You will, like most internet users, opt for one of these three solutions:
1- A classic search such as "Last name + first name + email" and all its variants. For a business email, some will observe the way the address is structured in the company to determine a specific contact. Relatively effective, but not necessarily speedy.
2- A search with a little more thought like "Tool to find email addresses," and in this case, you will certainly run across a service like Hunter.
3- A smart search thanks to Google's operators/commands and wise tricks. If you type the query below and the email you are looking for has been published online, you will find it. Simple, efficient, fast. However, you must know the trick!
Small aside: Is your knowledge of search operators a little outdated? Here are two articles to catch-up. This one here (the entire blog is actually worth the read) or this one, more for the mainstream public.
On a personal note, these are the ones I use regularly:
To track specific pages within a website, (or how to use Google to search any other site):
site:reddit.com "social audio"
A variation that I like for photos (also for brands...):
site:facebook.com "image may contain dog"
To find similar sites:
Related:substack.com
To target Google Docs on a particular subject (another one of my fav' hobbies ) :
site:docs.google.com "emerging trends."
For your information, there is a site that serves as a reference for Google Dorks, it can be found here. This term, coined in 2002 by security researcher Johnny Long, refers to queries that aim to reveal security holes.
Nothing can replace a sharp and disciplined mind
Something key to take into account: there are thousands of open-source search engines. The 2020 report produced by specialized consulting firm I-Intelligence (more than 500 pages on the subject) maps only a tiny part of this luxuriant landscape. On the "newsletter search engine" part alone, a good thirty are missing. 
Don't get me wrong: certainly monitoring the sector is a valid practice, but the good OSINT researcher is not the one who scans all the tools available on the market, at the risk of drowning in them. They must have methodological rigor, a strong analytical capacity, a form of creativity — the term "hacking" is often used to. And yes, if you search like everyone else, inevitably, you will find the same thing as everyone else. In some cases, that's enough, but if you're working on emerging sectors and trends, you won't hit the bull's eye. 
Let's illustrate my point. When I review pitch decks, I examine the competition/market slide thoroughly because I like to understand the specificities of each player. Very often, I dig a little deeper and discover players that have not been mentioned. It is then advisable to carry out your competition mapping using OSINT tools. Here, again, there are several ways of doing things: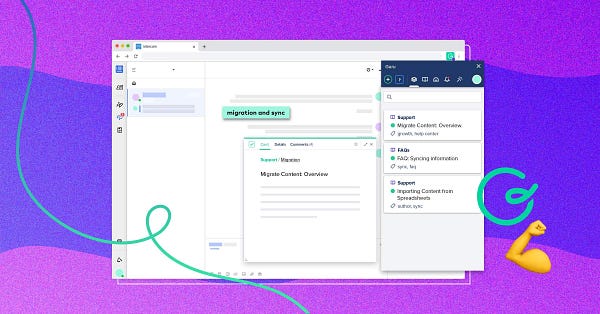 getguru.com
Knowledge Base Software - Replace Your Company Wiki
Need a better knowledge management system? Guru can help. Find out how our tool can help support your team by improving knowledge sharing.
Two important points: if you spot someone who has already published a map, chances are, they are a practitioner of the technique. It is probably worth adding them to a dedicated list on Twitter because they will probably start again. For example, Selfdriving.fyi, Michael Bock's website, presents itself as the most comprehensive database of companies working on autonomous vehicles and related technologies. Another example is Eric Peckham's public media investor database on Airtable. These initiatives should increase thanks to the development of the creator economy and the trend of low-code/no-code tools that greatly facilitate the creation and updating of databases on certain sectors.
Another very personal way to find inspiration on Twitter: I type the query "who is building" ... which brings out interesting entrepreneurial personalities and start-ups.
Some great tools worth knowing
I recently had an exchange with Stefanie Proto, who I've been following for a while, and with good reason: she's a living encyclopedia of OSINT! As she explains in her Twitter bio, she is "obsessed with niche search engines, search tools and discovering new ways to find information online." I asked her what her favorites are and why. She told me these three: 
I then asked her what the most unusual niche search engines she encountered were. She mentioned two of them:
For my part, I'm going to stick to the SOCMINT field, aka social media intelligence. 
So, passionate about OSINT? I hope so! I'll leave it there for now and I'll catch up with you soon. Until then, stay curious!
Marie
---
Other articles I wrote related to TrendSpotting:
The Mind of A brilliant Trend Seeker
Spotting Trends: an expanding Business
---
💎 Snippets & other curiosities
---