Discover more from In Bed With Social
Social Media, Tech and Consumer Culture Weekly, or fewer. No spam, no bs.
Over 6,000 subscribers
Monetizing newsletters: when creators strive with ideas
Newsletters are having a moment, as creators experiment with more creative approaches to monetize and engage their audiences. Curious to learn more? Let's dive right in.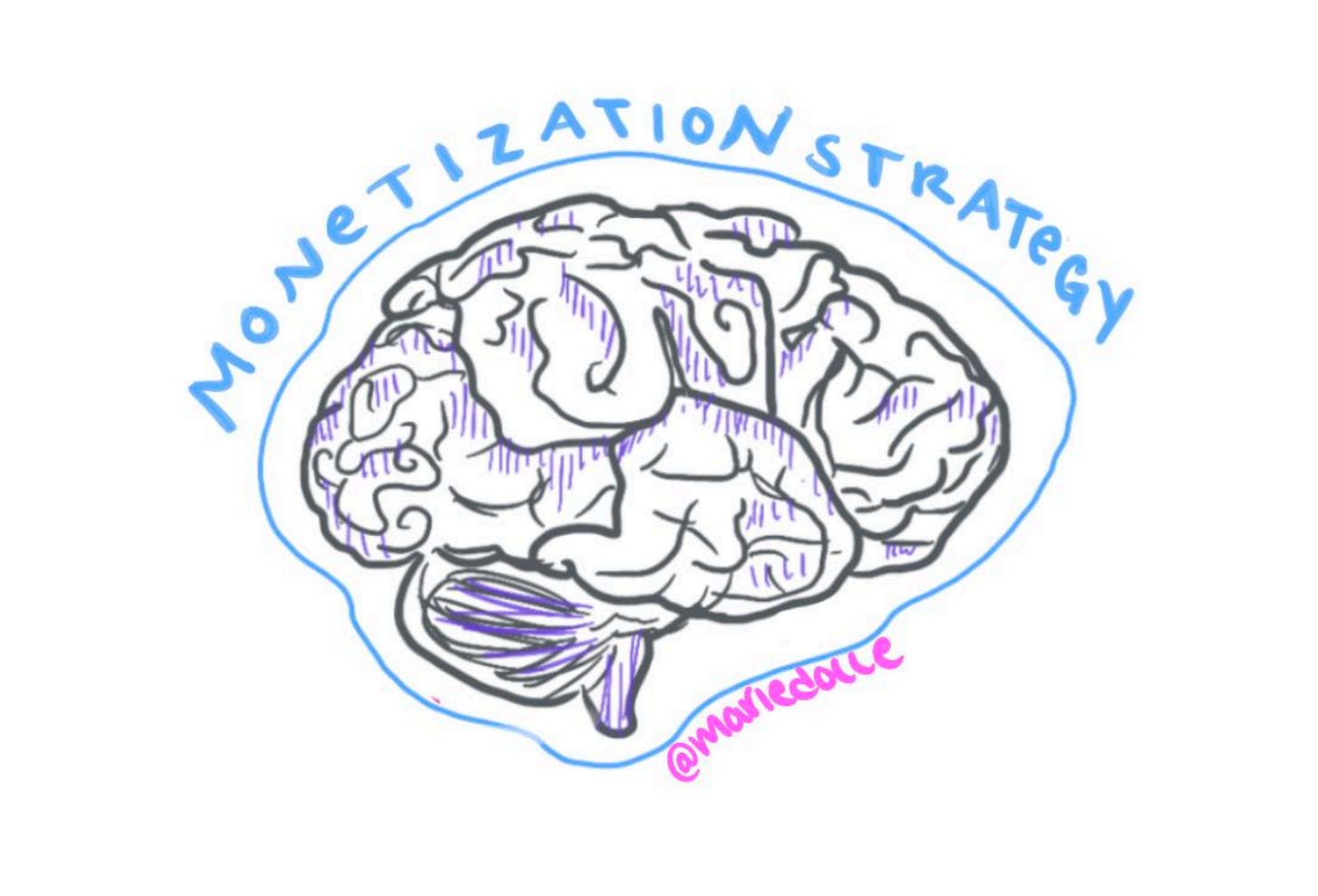 I have a strong interest in the Passion Economy and this is not the first time I've written about it. To feed this interest, I've been reading more online to understand how creators can monetize their business newsletters. This research has led to a mind-map of the monetization opportunities built around two major aspects, although these lines are becoming increasingly blurred.
Selling to brands

Selling to consumers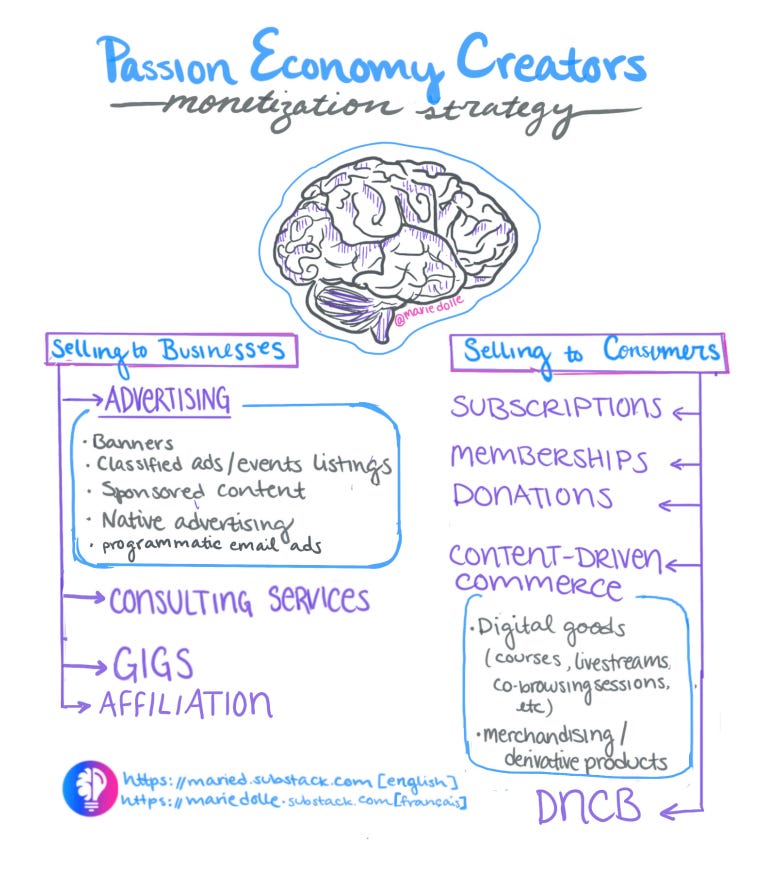 Nothing new under the sun? Maybe, but hold on a second; there is more to it than that.
Let's explore the "Selling to Businesses" side first
Advertising: This is a classic route carried out by mainstream newsletters such as Morning Brew, but still rather secondary to Substackers and other newsletter creators. How come? I think it's due to a scalability issue, lack of standards and market maturity: how many brands have started to map newsletter creators operating in their market? This leads to another question: how can brands detect the most relevant newsletters? By listening carefully to their audiences on social? Sure, but what else? 

The game should shift with the rise of services such as Letterlist, Discover, Letterdrop, Discover Substacks or Newsletter Stack that aim to improve the discoverability of newsletter creators. SponsorGap is yet another interesting service that makes it easy for creators to find a sponsor for their newsletter by showcasing hundreds of hand-picked companies running sponsorships.

Newsletter bundling should also play an important role. For example, "Everything" brings together several newsletter creators (initially Nathan Baschez and Dan Shipper), and is gradually opening up to other hand-picked editors. As Ari Lewis explains in an article: "When the newsletters are standalones, the consumer is a SuperFan, a consumer that pays retail price for a product and will seek out the product. Bundling, however, will give the author access to another type of consumer — the CasualFan, a consumer that has only one of the criteria of a SuperFan."

Moreover, there is a rise in marketplaces that connect content creators with brands. While services such as Paved or ThoughtLeaders are rather focused on major media, new services like Hecto are specifically catered to newsletter creators.

The Dense Discovery Newsletter (26,000 subscribers) recently carried out a mini-survey about a paid version and collected close to 1,400 submissions. The key takeaways?
"Don't remove the ads": many respondents said that even in a paid version they wouldn't mind keeping ads as long as they continue to be unobtrusive and relevant. Context note: on DD you can either sponsor an edition or book a classified ad. Interestingly enough, Dense Discovery built it's very own ad management system… on a Google doc. View it here
A suggestion that stood out was the idea of letting a minority of paying readers support the majority of non-paying readers. A model inspired by Kottke.org or The Guardian that depends on the generosity of a segment of readers that help the dissemination of content they believe should be available to everyone. A strategy that is similar to the one tested by Tim Carmody that he called "Unlocking the commons" in his statement of purpose.  

When monetizing through adverts, one can stick to classic formats such as sponsoring or focus on offering a service, a form of value to audiences such as invitations to an event, discounts, the opportunity to test a product ... creativity can also come into play: with its "Sponsored answers," the format used by newsletter Protocol can serve as inspiration; this advert offers a particularly smart option that leverages on the expertise of a brand's employee: in short, it makes it more human and brings more contextual quality.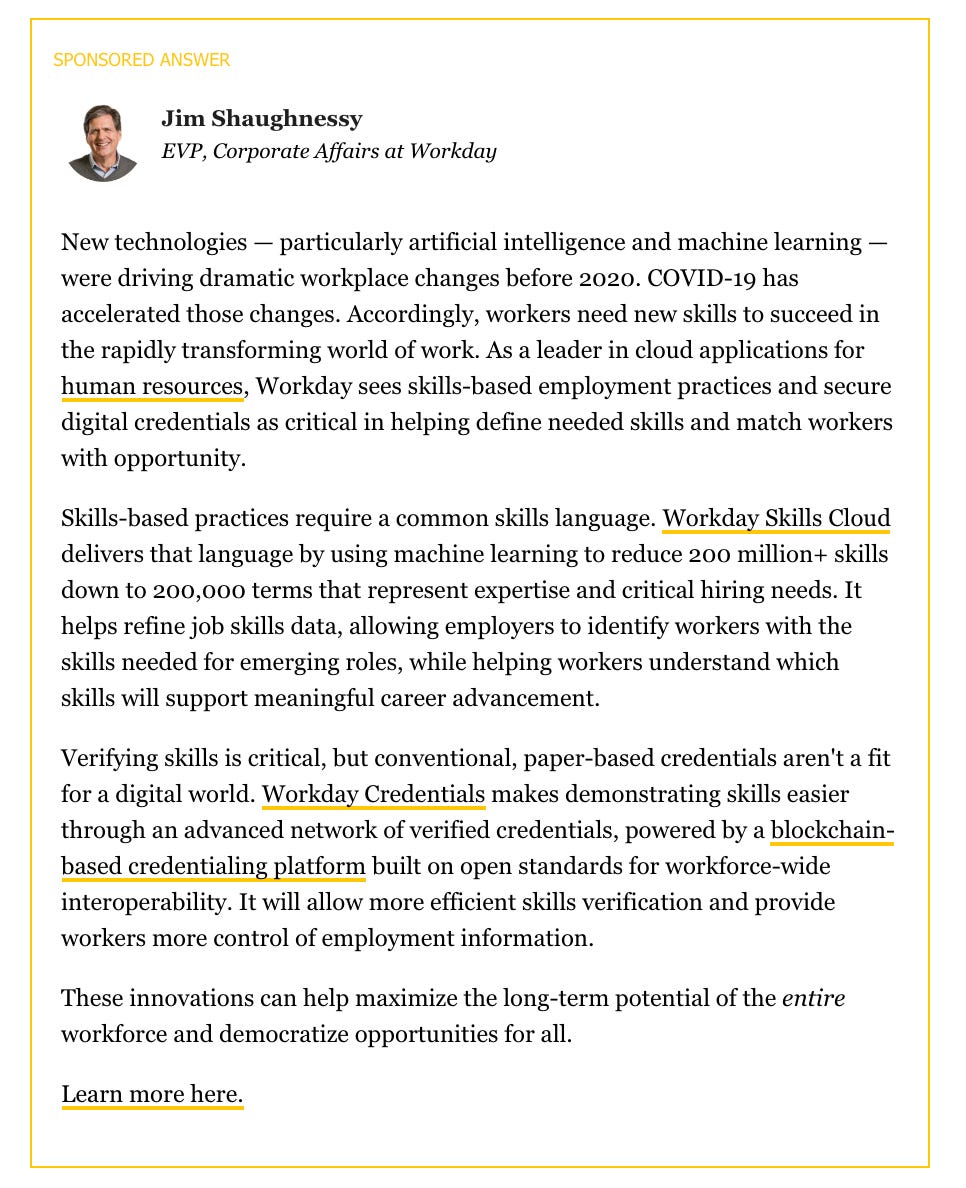 Programmatic email is another option with actors like Reelevant, LiveIntent, or InboxAds, although they are currently used by major media outlets rather than independent newsletter creators. A positioning that could evolve? A market to be seized?
Let's mention affiliation with global solutions such as Awin or Tradedoubler, or set up with brands that have developed their own affiliate programs e.g. Amazon.
Other sources of revenue linked to brands could emerge, around training for example.  Budgets for lifelong learning could be adjusted to allow employees to pick their training modules or "buy" content from these creators. Lastly, businesses could also finance/refund subscriptions to creators that are relevant to their ecosystem. This can already be observed
Let's also point out the indirect monetization paths, resulting from the visibility brought by the newsletter.  Consulting, gigs, and whatnot. In these cases, the newsletter feeds the top of the funnel and generates leads. It should be stressed that monetization is not an end in itself. People often forget that a newsletter acts as a "visible achievement" that can open the door to many diverse and varied opportunities, sometimes with more value than monetization in itself!
I am convinced that brands will partner with these newsletter creators for the simple reason that with audiences increasingly shifting to dark social channels  (newsletters/inboxes, chats, etc.), brands will have no choice but to change their approach and allocate budgets from content and advertising. Quick reminder: the digital advertising market is expected to reach USD 982.82 billion by 2025, while the content marketing market is expected to grow by USD 269.24 billion between 2020 and 2024, according to Technavio's latest report.
Here is a mapping of tools that feed this "selling to businesses" category: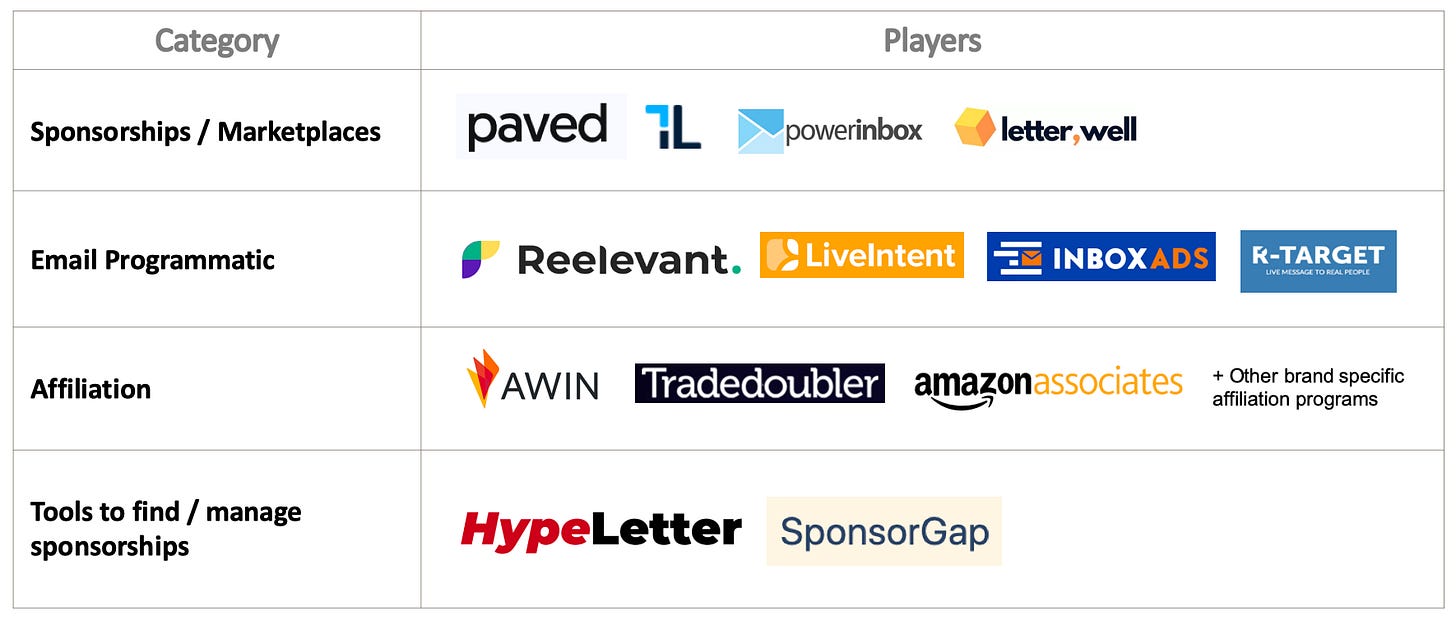 Now, let's explore the "Selling to consumers" side
Paid subscriptions and memberships are made available through platforms like Substack or Patreon. Subscriptions are a revenue agreement with a financial benefit being the main feature. On the other hand, membership implies belonging. Memberships are of course also paid, but with a relational and personal touch.
Initially popularized by gamers on Twitch, a donation system is the third option. Tools like Tipee have promoted the use of this system and tools like "Buy Me a Coffee" allow you to "tokenize" the action of paying (via a coffee, a glass of champagne, etc.) while the creator receives actual money. Ko-fi goes even further in this approach by offering crowdfunding options for larger projects.
Many newsletter creators offer services outside the scope of their newsletter. These are "digital goods": training modules, white papers, access to private communities, etc. As lifelong learning becomes an absolute necessity to remain competitive in a constantly changing world, these digital goods could also be monetized with brands by tapping into training budgets, as I explained earlier.
The opportunities linked to the development of social commerce features like live streams, co-browsing sessions, etc. could constitute a new interesting alternative for creators.
Finally, merchandising products and building a business from its newsletter is a distinct possibility that more and more newsletter creators are considering.
Here is a mapping of tools that feed this "selling to consumers" category: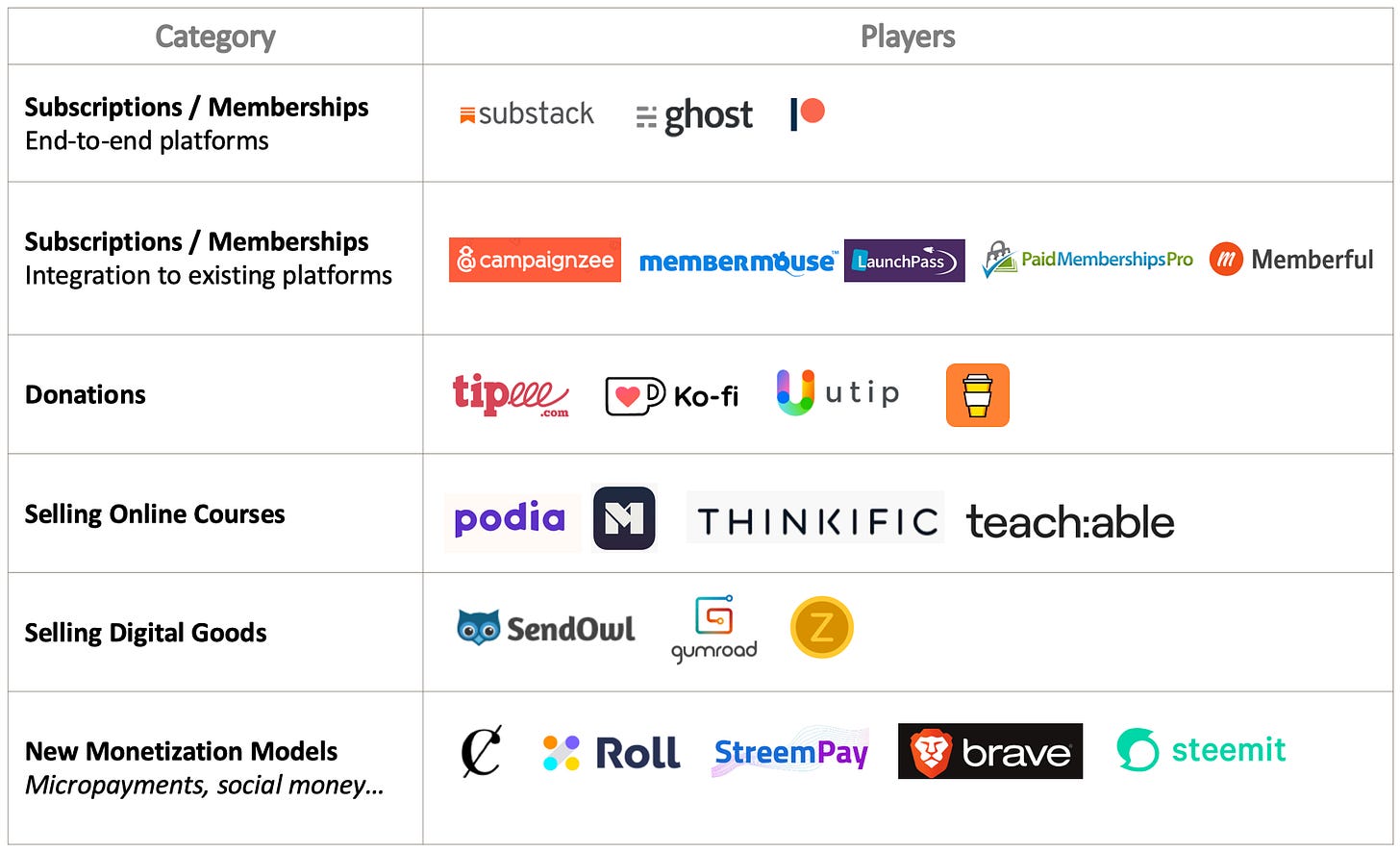 Which are the best strategies to follow?
Having drawn up this overview, many questions can/should be asked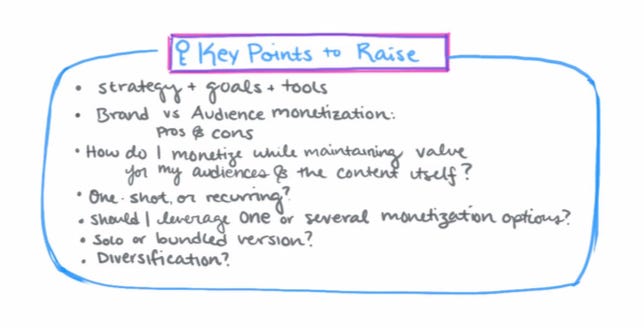 The problem is that there are no easy answers or ready-made solutions and there's a lack of standards. We're still in the test and learn phase. Paywalls, for instance, are a big subject on which opinions diverge (Could  dynamic streaming payments with services like StreemPay be an alternative?) 
As can be seen from the number of comments on this tweet, there are major pros and cons. Substack states that the ideal number to monetize an audience is around 1,000 subscribers—sometimes even less—and if the creator has an opening rate of more than 50%, he will be able to convert 10% of his audience to paid subscriptions. But the reality is not always so bright. Several examples shared on social media have shown that the average rate could in fact be lower, around 3-4%.
We are in the early stages of understanding how to fund writing. There is tension because we value good writing but don't want to pay for it or think it's the best business model. 
In real life, only a few crème de la crème creators survive on only subscription incomes. Like Andrew Kamphey said: you have to fire up everything, test everything. The technique that works for one creator may not necessarily work for the other, so creators need to get out there and try different strategies. 
An important point to stress regarding the selling to the consumer side that surfaced from my discussions with Sari Azout is that we are moving away from funding specific projects to funding people. People are willing to pay for content that is personality-driven for a closer connection to the creator and a sense of membership and identity. As Sari Azout explained to me: "Here, what I think is interesting is the difference between public and participatory content. Content can be public and available for everyone to read and consume, but that  doesn't mean it's open for anyone to participate, you have to invest/subscribe if you want to participate and have a relationship with the creator." In other words, fans are willing to pay for the reputational rewards of having a connection to a creator. Therefore, on the fan side, there is a whole world to explore with rewards.
This can be achieved through original membership programs that work very well when they create exclusivity/cults, offer something unique, and unlock tremendous value. Many interesting examples can be observed on Patreon: 
N.K Jemisin, a fiction writer, has a membership that offers the possibility, at least once per month, to view a never-before-publicly-seen original draft chapter or short story from her.

Gaslit Nation covering "corruption in the Trump administration and rising autocracy around the world" is hosted by writers Sarah Kendzior and Andrea Chalupa. One of the membership levels comes with a monthly recording where the hosts answer their audience's questions in a Q&A bonus podcast and share the books, films and other resources that are inspiring them. Another more premium membership offers its patrons the possibility to suggest episode ideas and guests, and be included in the credits of each show as a producer. 

Rewarding communities for their support can sometimes be just about recognition and saying "thank you": tweeting thanks to higher-value tier members, adding their names in your newsletter, or giving a shout-out. 
And yet, in these examples, there is still something missing: the recognition and reward for being early fans. While searching for services/tools that could address this need, I came across Traxion, an experimental music-streaming app designed to reward early fans for "putting-on" for an artist. As Pieter Gorsira explains how the service works in a blog post: "Users pay a very small amount of cryptocurrency each time they listen to a song. However, in exchange for each of these payments, they receive a token representing a portion of the song's future revenue. In this way, users can construct "portfolios" of future song revenues by way of their listening history. Through specific tuning of parameters, it's possible to create a situation where fans who are early listeners stand to receive revenues in excess of their original payments (those revenues coming from payments by those listeners who didn't tune in until later)" Definitely an interesting example… worth adapting to newsletter creators! 
Successful Community Creators Diversifying 
To build an engaged community, some creators make their newsletter the core of a diversified business and come up with particularly creative ways to engage their communities:
On Substack, the Pomp Newsletter operates with "Off The Chain," a paid membership. It brings together a community of members who wish to learn more about Bitcoins, blockchain, cryptography, and digital assets. Membership gives access to a daily newsletter, preview access to podcast episodes, transcripts, program notes and a "Product Club," where the creator negotiates with brands and products to get significant discounts for subscribers.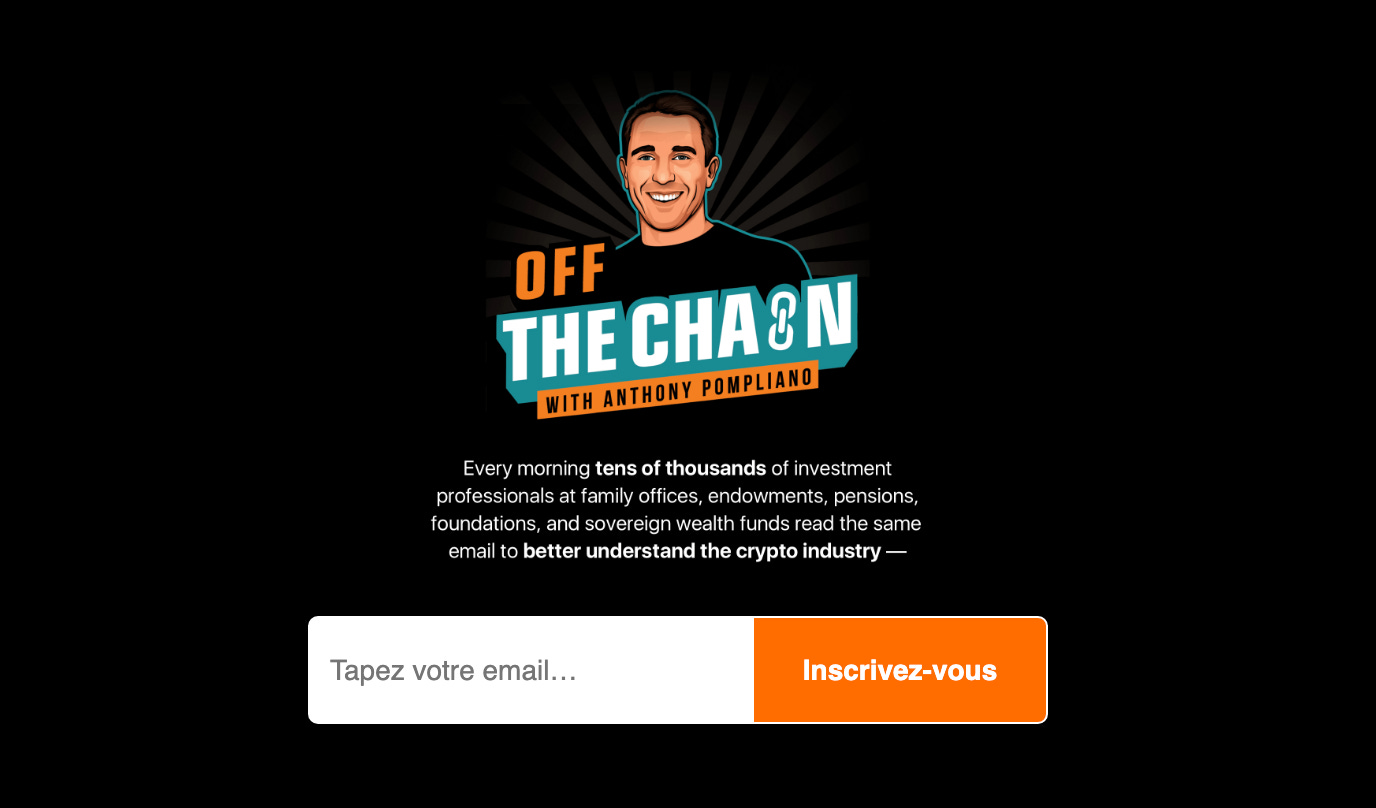 Some Newsletter authors do not hesitate to experiment with social currencies: community points systems built on the Ethereum blockchain. This is similar to Reddit, which offers two digital coins—$MOONS and $BRICKS—given to members of the Cryptocurrency and FortniteBR subreddits to reward them for their contributions (comments and quality content). Redditors can then exchange their tokens for premium features such as personalized emoji, transfer them to other Reddit members or an Ethereum portfolio. This is also used to measure the reputation of Reddit members through badges. 

Back to newsletter creators — Substacker Holyn has partnered with Roll to create her own social currency, $HOLLA, and allow her readers to claim these tokens as a reward, a great and original idea to engage audiences. If you subscribe, you get 150 HOLLA, if you share on Twitter you get 50 HOLLA and so on. To spend your $HOLLA, you can dip into the rewards catalogue developed by Holyn: for 5,000 $HOLLA, you can get a 30-minute appointment with Holyn, chat with her, get recommendations or enjoy a personalized mini-consulting session. According to her, "Digital currencies are the future. Participating in this experience is creating that future. Maybe together we'll create one of the largest markets for personal tokens, change the way we think about how content creators can monetize, or just have fun."

In any case, other creators are following suit, like Layer1 with his $Ladz. And if you want to discover other use cases, check out this thread:
In general, crypto is ushering in the era of micropayments for content creation and some creators are already making this happen with services like Brave, Upptrend, Publish0x, Steemit, Appics, Lbry, Read Cash and many more; certainly an emerging trend worth watching.
With the French publication Snowball, Yoann Lopez publishes a newsletter on personal finance with "a practical rather than theoretical approach." This publication has 3,000 subscribers (including 600 Premium) and is positioned as "the first newsletter in the world with a certain form of shareholding" and thanks to that, you can receive dividends based on the number of Snowflakes you receive upon subscription. This is a real business model for a newsletter similar to a cashback system. In essence, the profits are redistributed to the subscribers, part of which has already been donated to charity! Lopez explains that each month, he takes 20 percent of Snowball's revenues for investment and his subscribers (or "shareholders") can follow these movements via a G-sheet accessible online. At the end of the year, he will redistribute 20 percent of the profits.
That's not all! Premium subscribers will have a voting right via questionnaires.
And that's still not all! Among other services, there are two mobile applications to help choose the right actions, ETF, etc., with detailed analysis, access to a community and the upcoming creation of a Snowball foundation in the field of education. Because when it comes to adding value to a community, imagination has no limits.
Small newsletter. Big dreams? While interviewing Yoann Lopez, I asked him where he sees the newsletter Snowball in five years. He answered: "To tell you the truth, it's ambitious, like a leader in Fintech in Europe, i.e. to offer diversified investment tools."
And this got me thinking! Are newsletters ultimately just an entry point to one or more major business industries? NAAS (Newsletters-as-a-service) may eventually become DNCB (Digital Native Community Brands).
To sum up, the market is full of opportunities and brewing with potential.
With the advent of the Passion Economy, creators are living their passion and making money from it. Monetization through both audiences and brands at the intersection of advertising and content marketing is the way forward, especially thanks to a rapidly growing market. Brands will invest significant amounts of money to reach their increasingly dispersed audiences on dark social channels, and they will do their best to engage and build meaningful relations with these creators who are becoming key community leaders. New funding models and opportunities will help these creators in their early days. From Substack to Gumroad, several companies have announced the establishment of dedicated funds with grants and stipends. Cash advances could be democratized, like in the music and publishing industry. As investors express their interest in the development of these one-person companies, M&A communities and newsletters are gradually emerging.
Obviously, if not all of them are financed, if not all of them live from this passion, there will be no losers in the true sense of the word because these creators represent tomorrow's workforce, who learn by doing, extremely competitive "doers" in the market, who are visible thanks to their newsletter and who, even without necessarily monetizing, will open up many opportunities through their "building and learning in public."
The most ambitious creators will create DNCB – Digitally Native Community Brands -  tomorrow's brands, community-based, strong, trusted brands that will thrive in the Participatory Economy as demonstrated by Snowball's example with shared monetization models between creators and their fans. Tools such as Cent are intended to facilitate the creation of a network where creators and fans can earn income together. The result? A fully-fledged Trust Economy.
I'll end this piece with a final quote from Sari Azout: "Information has become a commodity; what matters is its relational value." But does all value come at a price? 
Marie Dollé
Acknowledgments: Thank you Sari for your valuable inputs. Thanks also to Clemens, Andrew, Pascaline, Neer.