A deep dive into a booming economy where TikTok's "uglycore", awful-looking NFTs, ugly vegetables, chaotic cakes and more unesthethicaly pleasant things now take centre stage — and why people are genuinely enjoying, consuming and celebrating them. 
The fashion statement of our times 
You thought the world was weird these days? Well, it turns out it's taking a new, unexpected twist and becoming uglier — quite literally. Sure "ugly" is nothing new, if you look back as far as the mediaeval period, an artistic trend consisted of having baby's faces in painting look old and scary (if you are interested in why, Vox has it covered for you here). Fast-forward to the 21st century and ugly Christmas sweaters are all rage. So, yes, ugliness has fed many trends across the centuries, be it art or fashion.  
Then, what's new? Well, for starters, the magnitude in which ugly is manifesting itself these days is just mind-blowing. And it just keeps growing. Like, really fast. Like, 5.5 billion views on TikTok fast. Diving into the hashtag on Gen Z's go-to platform reveals that ugly might even be too weak of a word to describe this phenomenon. From the "Normcore" aesthetic elevating unremarkable or unfashionable casual clothes to must-haves, to the "uglycore" and "weird girl aesthetic", where mismatched patterns, bold colours and as many textures as you can possibly have in one outfit are all the rage, "ugly" has definitely become the coveted aesthetic of the younger generation, never short on surprises. 
And brands are cashing in on this cultural moment. As reported by Bloomberg, shares of Crocs Inc are at an all time high and the brand expects its revenue to double to $5 billion, within the next four years. It's the same story for the multibillion-dollar ugly empire Deckers Outdoor Corp, which markets the Uggs brand of boots, or the Hoka dad sneakers. Even the luxury sector is embracing the trend. Balenciaga, for instance, recently made headlines with its $2,000 trash bag (yes, you read that right), while LVMH acquired the majority stake in German sandal brand Birkenstock just last year. 
Embracing ugliness everywhere 
However, the phenomenon isn't constrained to fashion. If you look around, you'll find manifestations of ugly or weird just about everywhere, from NFTs, to brutalist websites, to florists and even bespoke exhibitions like the ugliest houses in Belgium, which is taking place right now. 
Food aesthetics have also been shaken up. Initially, there was a rallying call to embrace "imperfect" food in order to help reduce food waste, ultimately leading to a lucrative sustainable fashion movement. Indeed, a study carried out by UBC recently revealed that calling food 'ugly' makes us want to buy it, making it a powerful recipe for sales success. Ugly produce grocer Misfits Market surely won't argue with science. Having recently acquired its rival, Imperfect Foods, it is doubling the size of its business and is expected to hit $1 billion in annual revenue within the next two years. 
But sustainability isn't always a guiding principle. Baked goods, for instance, are also getting weirder, messier and uglier. They can provide mental health quotes like in this Xanax cake or this motivational "I do the best I can" cake. Sometimes they can get even more complex, like in this indescribable composition that won't leave you cold. And that's the thing about weird and ugly things. They can pull you closer because you feel an urge to understand why this thing was made, what went through the mind of the person who made it and what it means. It brings a deeper impression, triggering critical thinking, and ultimately, if you loosen up enough, you might even end up falling in love. 
Rejecting what is uninteresting 
So what is the WHY behind this? Is ugly a sign of self-certainty in a world of anxious uncertainty? Sure, we can blame — or praise — the permacrisis period for this renaissance of the ugly, but is that it? You've probably also read dozens of times that we are witnessing an identitary stand by Gen Z, moving to the opposite of the sleek and beautiful millennial aesthetics. But what is the driver? Truth is that the binary of beauty versus ugliness is becoming irrelevant, and the latter is redefined in its complexity and subtle nuances as something compelling, something that will rise above the clutter, something that will add chaos to algorithms. And it's not just the Gen Z driving the movement. So what is happening is simply that we are rejecting what is sleek… and uninteresting.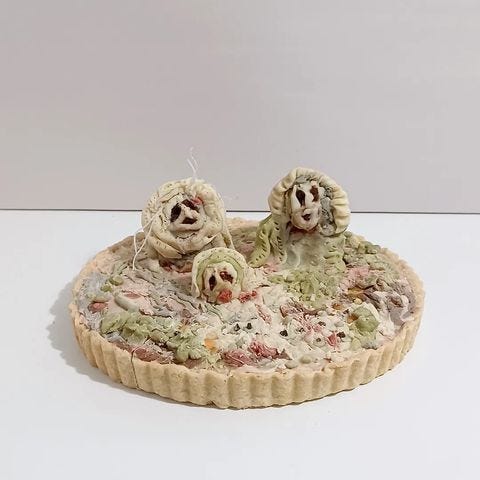 As Sarah from Aesthetically Complex Pies, a sweet and savory pie and snack service 'specializing in obsessively organized and interactive sculptural treats' explains: "I don't really ever think about things in terms of ugly or beautiful. This is not any sort of criteria I use in making things (...) I don't think my food work often looks particularly delicious -- but that's part of the thrill too. Things that maybe look inedible or unfamiliar, but are actually quite tasty. I also think that being 'uneducated' in my chosen medium helps. I don't know the rules, so there's no chance in my work ever looking 'correct'. I'm not too interested in doing things the right way. And not knowing the rules gives me an excuse to be imperfect in my work" 
And when you browse Sarah's Instagram, her culinary creations inspired by artists like Allison Schulnik, crystals, geometry and more, are indeed hard to define or pin down. And yet, it is captivating. She is experimenting, making intimidating things much more approachable and also unleashing new levels of creativity and inventiveness:  "I imagine a reality where the boundary between sculpture, found object, pantry item, and couture dinner is blurred to a thrilling extent. Should we bite the building? Should we drink the sweater? The beautiful difference between working in food versus working in sculpture comes down to intimacy and brevity. The trust in a swallow, the fragility of temperature, the risk of melt. I want to take the best parts of food and the best parts of fine art and marry them for a brief moment before devourment. It's not 'too pretty to eat'; it exists precisely for that purpose."
MD